UNDERGRADUATE DEGREE PROGRAMS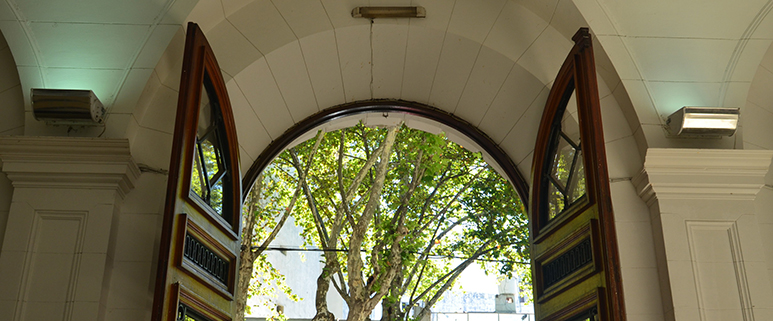 – Civil Engineering
The Civil Engineering program at UTN Buenos Aires trains the student to conduct all tasks regarding the analysis, project, calculations, management, construction, inspection and maintenance of civil works according to their chosen major; that is, the construction of any kind of building, if a major in Buildings is chosen, and the design and execution of road, railway, port and airport works and their associated accessory buildings.
– Electronics Engineering
The goal of the Electronics Engineering program at UTN Buenos Aires is to train professionals able to do research, create innovative technological developments, and creatively use and apply their knowledge to the design, implementation and management of complex electronic systems, aimed at improving people's standard of living while preserving the environment.
– Electrical Engineering
Graduates from the Electrical Engineering program at UTN Buenos Aires are trained and knowledgeable in the development of new magnetic materials, industrial electronic components, power electronic devices for static switching, advanced electromechanical systems, digital control techniques, computer techniques for the design, calculation, project and facilities control stages, as well as reliability and safety requirements relevant to energy issues.
– Industrial Engineering
The Industrial Engineering program at UTN Buenos Aires seeks to train professionals to manage industrial and service companies, providing them with the technological knowledge required to solve specific management, organization and production problems. In addition, engineers are trained to implement, evaluate, organize and manage productive systems through the use of a variety of techniques, human resources, materials, equipment, machines and facilities in order to provide financial and production organization to companies producing goods and rendering services aimed at meeting society's needs.
– Mechanical Engineering
The Mechanical Engineering program at UTN Buenos Aires aims at training professionals capable of utilizing and operating consolidated technologies, so considered due to the accumulated experience in the area with long-tested analysis and design methodologies thoroughly presented in an exhaustive bibliography easily available to students.
Mechanical Engineers competently perform a wide variety of tasks such as: mechanical project, industrial assemblies and installations management, industrial products design; expert surveys and technical consulting, undergraduate course teaching and quality management, among others.
– Naval Engineering
The Naval Engineering program at UTN Buenos Aires trains professionals capable of realizing projects and feasibility studies, construction works planning and management, and maintenance of different types of ships, vessels and any kind of marine structures.
Training is aimed at designing vessel hull forms and their structures but it also contemplates the project and installation of all necessary systems for their operation.
– Chemical Engineering
The Chemical Engineering program curricular design at UTN Buenos Aires is aimed at training a professional capable of addressing the integral development of process plants industrial projects, applying their academic and professional background and expertise to the performance of feasibility studies, environmental impact assessment, design, estimation, construction, installation, operation as well as devising and tracking of production and commercialization plans. Currently, a chemical engineer is acknowledged as a professional involved in all matters relating to Environment and Sanitation areas where ecology is their main issue of concern.
– Information Systems Engineering
The Information Systems Engineer at UTN Buenos Aires is concerned with fields in which information becomes vital to plan, control and make decisions using computerized processes as another tool to perform their tasks. The graduate from this course is capable of analyzing, designing, implementing, planning, conducting and controlling the systems in charge of obtaining, storing, processing and distributing information both from technology-based companies and industrial, commercial and services organizations either as an employee or as a self-employed professional.
– Textile Engineering
The Textile Engineering graduate at UTN Buenos Aires is trained to perform studies, feasibility analysis, project and management of factories and shops aimed at the industrialization and processing of fibres, yarns, woven and nonwoven fabrics.
The Textile Engineering graduate is trained to perform professionally in all aspects of the textile industry ranging from facilities and machinery to the production of fibers, yarns, woven fabrics, clothing, products for thermal applications and geotextiles, among others.